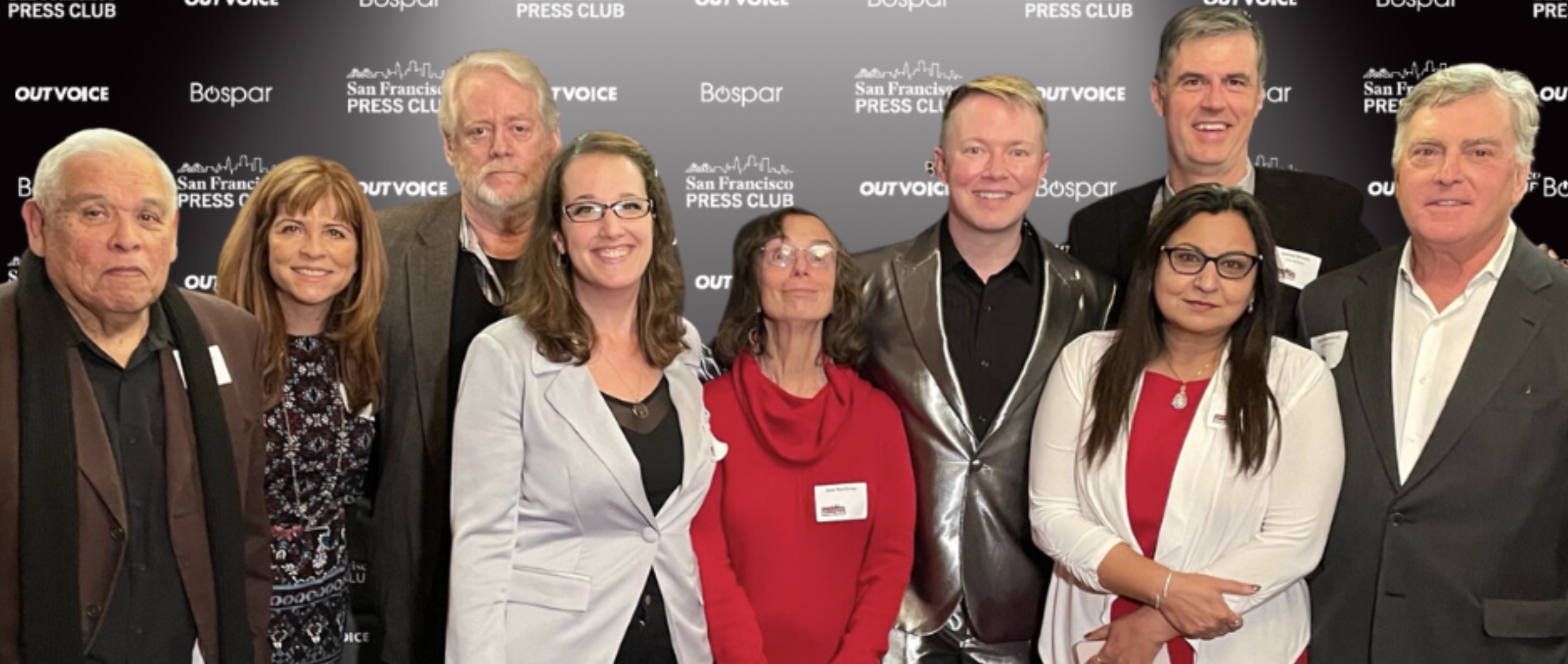 Bay Area journalists submitted over 500 entries for the SF Press Club's 46th annual gala
SAN FRANCISCO – November 15, 2023 – The San Francisco Press Club announced it had received a record 544 entries for its 46th annual awards gala. This is the third time in a row the SF Press Club broke its previous record.
Competing media outlets include:
National/International: Associated Press, The Athletic, BBC, Bloomberg, CBS News, El Tecolote, Epoch Times, Financial Times, Fox News, Gizmodo, Indica News, Insider, LinkedIn News, MarketWatch, Mashable, Politico, Re/Code, Reuters, The Nation, The New York Times, The Wall Street Journal, Univision, USA Today, VentureBeat
Local print/online: Contra Costa Times, Mission Local, Oakland Tribune, Palo Alto Daily Post, Sacramento Bee, San Francisco Chronicle, SF Gate, San Francisco Business Journal, San Francisco Bay Times, San Francisco Standard, San Jose Mercury News, Silicon Valley Business Journal, Bay City News
TV: KBWB, KCSM, KICU, KGO, KNTV, KOFY, KPIX, KRON, KSTS, KTVU
Radio: KALW, KFTY, KHMB, KPFA, KQED, KSFO, Sing Tao Chinese Radio
"We could have as many as 500 journalists at this year's gala," predicted Curtis Sparrer, president of the SF Press Club and principal of Bospar. "For journalists who want to network and mingle, this will be the biggest media event for the entire San Francisco Bay Area."
The awards gala takes place on Wednesday, December 13 at The Elks Lodge #3 at 450 Post Street in San Francisco. Cocktail service begins at 5:30 p.m., with dinner and awards commencing at 6:30 p.m. CNBC's Deirdre Bosa of TechCheck and KPIX's Ryan Yamamoto will emcee. The New York Times' SF Bureau Chief Heather Knight will take part in a special Q&A about the biggest issues in the media.
Tickets will be $125 per person at the door, but The San Francisco Press Club is now selling them for $75. Please use the code ADVANCE to receive the early bird pricing. Here's the link to purchase your tickets:
ABOUT THE SAN FRANCISCO PRESS CLUB
The San Francisco Press Club is a nonprofit organization with 501(c)3 status. It was founded in 1963 to provide a forum for the interchange of ideas and opinions between professionals in the various news and public relations media, providing an organization in which to share fellowship, promote professional competence and knowledge, encourage students entering journalism by offering scholarships, and increase public knowledge of the media through workshops and other exchanges of information.
Contact
Curtis Sparrer, curtis@bospar.com