"Another was that curious institution called the newspaper bar. Every big city with a big paper had at least one: It was a combination social club and psychologist's office where newspaper people met to discuss life, to argue, to plot against their editors." – Carl Nolte, The San Francisco Chronicle, March 5, 2022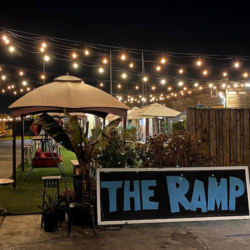 Whether you're a veteran journalist yearning to mingle again or a young star eager to introduce yourself to the industry, you're invited to our ink-stained gathering on April 28. The newly revitalized and rapidly growing San Francisco Press Club will host a free mixer at The Ramp, a restaurant and bar on the water's edge of the San Francisco Bay.
The renewed mission of the SFPC is to encourage excellence in journalism by providing training, grants, internships and recognition for professionals in Northern California. As always, we will continue our popular Greater Bay Area Awards program, now entering its 45th year. Visit us at sfpressclub.org
This is your chance to join in that effort as well as to connect with others who believe in the First Amendment, integrity and the essential role of journalism in democracy.
Oh, and there's live music. The Irish Newsboys will provide "rowdy folk music peppered with a bit of San Francisco-style rock," as described by the Media Museum. The band features a collection of newspaper types, such as Kevin Fagan, a San Francisco Chronicle reporter who plays a mean guitar, and Steve Rubenstein, a legendary former Chronicle columnist.
PLEASE NOTE: PLEASE RSVP / REGISTER FOR THE EVENT IN ADVANCE. VALID REGISTRATION IS REQUIRED FOR THE MIXER.
Who's invited: Writers, editors, photographers, PR specialists and students aspiring to join the journalism community.
When: April 28, 2022, from 5 p.m. to 8 p.m.
Where: The Ramp Restaurant, 855 Terry A Francois Blvd. San Francisco
Tickets: Space is limited. Please Register.
SF Press Club membership: sfpressclub.org/join